Key West, the southernmost city in the United States, is a tropical paradise that offers a unique blend of history, culture, and natural beauty. The laid-back atmosphere, coupled with its vibrant Real Estate and Lifestyle opportunities, make it a must-visit destination for travelers. In this post, we've rounded up 10 of the top attractions you can't miss while exploring this charming island. So pack your bags and get ready to embark on an unforgettable adventure!
1. Hemingway House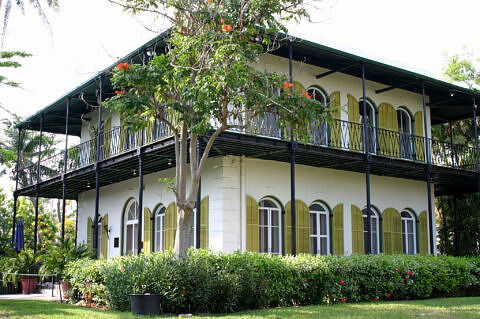 The Ernest Hemingway Home and Museum is an essential stop for any literary enthusiast. The late American author lived here from 1931 to 1939, where he penned some of his most famous works. Tour the house and marvel at the extensive collection of Hemingway memorabilia, and make friends with the property's famous six-toed cats.
2. Key West Lighthouse
Climb the 88 steps of the Key West Lighthouse for magnificent panoramic views of the island. Completed in 1848, this historic monument offers a unique glimpse into Key West's maritime history, as well as its perseverance in the face of numerous hurricane destructions throughout the years.
3. Butterfly Conservatory
Step into a tropical paradise at the Key West Butterfly and Nature Conservatory. Home to over 50 different species of butterflies and 20 species of exotic birds, this magical haven of tranquility is the perfect place to lose yourself for an hour or two.
4. Key West Golf Club
Tee off at the tropical Key West Golf Club, an 18-hole championship course designed by renowned golf course architect Rees Jones. Surrounded by pristine mangroves and natural wetlands, this challenging course promises a one-of-a-kind golfing experience.
5. Scuba Diving
Dive into the crystal-clear waters of Key West and explore the fascinating underwater world. With its diverse marine life and an array of shipwrecks, this thriving ecosystem is a scuba diver's paradise.
6. Deep Sea Fishing
Test your fishing skills against the likes of marlin, tuna, and wahoo on a deep-sea fishing expedition. The waters surrounding Key West are teeming with fish, making it an angler's dream destination.
7. Flats Fishing
For a more serene and intimate fishing experience, try your hand at flats fishing in the shallow waters of Key West's backcountry. Here, you'll have the chance to catch elusive species like bonefish, permit, and tarpon.
8. Custom's House Museum: A Look Back in Time
Step back in time with a visit to the Custom's House Museum, one of Key West's most prominent landmarks. With its stunning red brick facade and striking architecture, this 19th-century building houses masterfully curated exhibits, showcasing Key West's rich history and culture.
Gain an insight into the lives of famous residents like Ernest Hemingway and learn about the island's maritime heritage, pirate legends, and the influence of African-American culture. With ever-changing exhibits and engaging tours, the Custom's House Museum is a must for history buffs and curious travelers alike.
9. Mallory Square Sunset: A Key West Tradition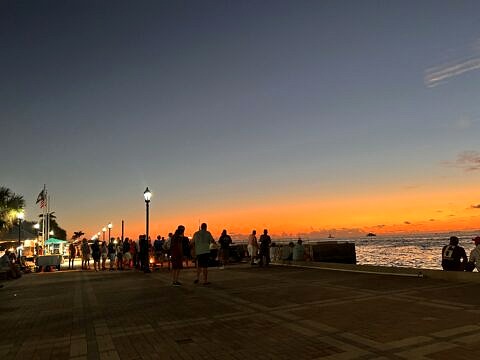 No trip to Key West is complete without witnessing the legendary Mallory Square sunset. This bustling hotspot comes alive every evening as visitors gather to catch a glimpse of the sun dipping below the horizon.
Surrounding the square, you'll find a spirited community of performers, artists, and food vendors, making it the perfect place to immerse yourself in the local culture. This nightly celebration is a testament to the laid-back and welcoming atmosphere for which Key West is famous – so grab a tropical cocktail, join the crowd, and soak in the magic of a Key West sunset.
10. Skydive Key West: An Unforgettable Adventure
While technically not in Key West proper, Skydive Key West offers an unforgettable experience that's well worth the short journey. With breathtaking panoramas of the sparkling turquoise waters, lush mangroves, and the iconic Seven Mile Bridge, there's no better place to take the plunge.
Whether you're a seasoned skydiver or a first-timer, Skydive Key West's expert team will ensure you have a safe and exhilarating experience. Take the leap with tandem skydiving or opt for more advanced training courses – either way, this is one adventure you won't want to miss.
Conclusion
With its vibrant history, stunning sunsets, and adrenaline-pumping adventures, Key West offers something for everyone. We hope our roundup of the top attractions has inspired you to plan your next trip to this beautiful island.
We'd love to hear about your experiences in Key West, so please leave a comment below or share your own #KeyWestAdventures on social media. And as always, remember to live your journey and embrace the island lifestyle!